Site 5 Issues
This video will walk you through my problems:

Re: Ticket ID SSV-434-41843
17 Aug – I just logged into my bank and noticed that Site5 has been double-charging me since I downgraded from a Cloud Reseller plan to hostPro + Turbo on 23rd August.
Can you please backpay me for the following invoices and correct the automatic-billing?
Pro-Rata required for Invoice #11458969 / 11428405 AUG
Reversal required for Invoice #11541917 / 11513174 SEPT
Reversal required for Invoice #11590710 / 11615681 OCT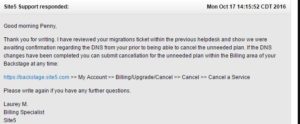 For your records:
CloudReseller:
9 Jul Scheduled Migration notification "These migrations will be seamless and will produce no downtime."


1 Aug [JKBD-66155] Realized all my sites, client sites and emails were down, created a ticket. Unfortunately since the old ticket system is no longer in use, I do not have a copy of my own words in these tickets, however I remember the gist of them and you should be able to verify on your end. Asked why I was not notified so that I could prevent downtime, they had sent the email to an email address that was hosted on the actual server they migrated… basically… after they changed the IP address, they sent an email… whereas I have no way of knowing that they were going to change the IP Address, so couldn't update the records to be able to receive the email. No tickets were created, nothing. Just changed the IP and expected the customer to know or have a non-site5 email-hosted address. It's a reseller plan, no regard for clients either. I didn't ask for it, but no pro-rata was offered for when all the sites were down either.
1 Aug [ZLWG-94845] Also, the process of checking emails had changed to the full email address instead of just the username in the migration.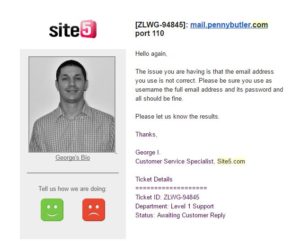 5 Aug [LWGM-78003] Noticed the site that was migrated was old, and blog posts and images were missing after migration.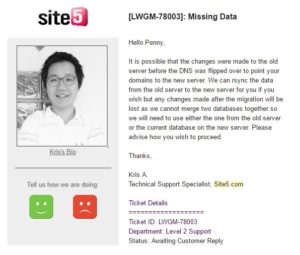 9 Aug [LWGM-78003] Data restored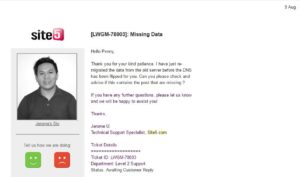 18 Aug Started to entertain the idea of moving away from Site 5. [Site5 #GBRC-02712]: What plan am I paying for?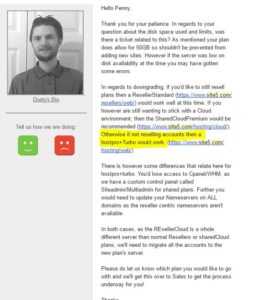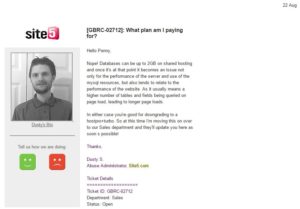 23 Aug After reassurances, decided to go ahead and downgrade and stick with Site5 because it seemed like the fastest & easiest way to get things up and going again.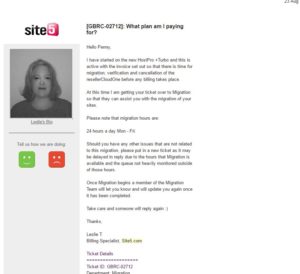 hostPro + Turbo
23 Aug – Downgraded to hostPro + Turbo, this is the email received that was supposed to contain how to login (no url to login to)


23 Aug – Downgraded to hostPro + Turbo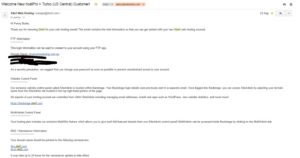 23 Aug – [#HSS-976-27316]: Issues with backstage after downgrading host plans
On the very same day that my sites were downgraded, ALL of my current tickets disappeared, and the ticket system was timing out, and after several hours was was finally able to create a new ticket (At this time I was not aware that you were changing ticket systems (no notifications were sent about that either… else I would've backed up all the tickets), and at this point, thought it was due to my downgrade, that suddenly all my current-in-progress tickets were gone)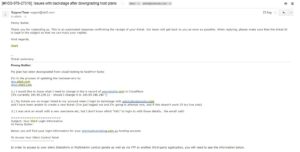 24 Aug [#AYB-826-74077] Informed that support will sort out the cancellation of the billing of the old plan


24 Aug [#AYB-826-74077] Officially informed that I can no longer access our existing open tickets


Although I could no longer access the tickets …. I was still receiving replies asking for updates to these existing tickets via email so now I'm seriously suspecting something has gone wrong with my downgrade and that support is confused or something. It was very confusing on my end.


Support still sending replies to ticket #GBRC-02712 that I no longer have access to because of your ticket system: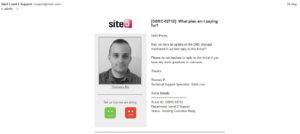 Me replying to GBRC-02712 tickets via email not working:


25 Aug – Support assuring me that ticket GBRC-02712 is definitely not being used


Yet later that same day… got this: An email about ticket GBRC-02712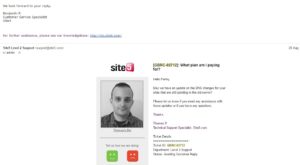 25 Aug – I'm still having trouble updating the settings… and I'm trying to reply to that support ticket via email…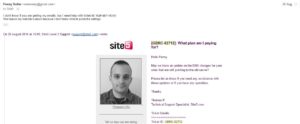 26 Aug – no confirmation that they got my email, that it went anywhere at all (even though it's in my email … ) and then I get this.. ANOTHER reply about the OLD ticket that
1.) noone is receiving / acknowledging my replies
2.) that still contains the OLD ticket ID that I DON'T have access to: GBRC-02712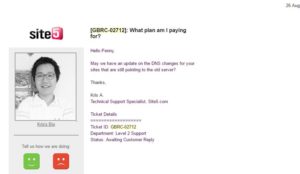 26 Aug – created a new ticket to try and get their attention about the DNS but got this reply: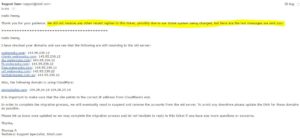 26 Aug – created a new ticket to try and get the attention of those staff members awaiting a reply for the old ticket ID #GBRC-02712
[#DUH-349-51043]: Ticket ID: GBRC-02712
Here.. I even address the staff login names and request that the ticket be assigned to one of them directly so that I know it goes to the people who are sending me emails… as well as giving an update about the DNS.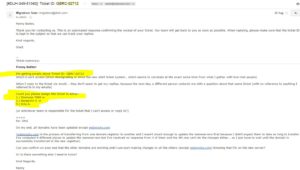 30 Aug – 5 DAYS later… the ticket that I created specifically for the migrations team… was not forwarded to them.


30 Aug replied asking if my ticket was forwarded


Never got an email reply to that particular ticket, didn't know there was another one after it until just now when I went to grab the above screenshot. This is a screenshot of my inbox with a site5 search


We were however communicating in another ticket, the last site that wasn't working was pennybutler.com and as far as I know, from this date.. everything should've been working.
I don't get it. I'm trying to see how double-charging me through this whole fiasco is at all fair. I'm so upset about this. What is the right thing to do here? It's been such a nightmare entanglement of confusion trying to sort out everything that was going on:
with the messed up migration – having to update all of my websites dns addresses – twice…
having to change how I login to every single email address
changes done to the IP's and the notification sent "after the change" .. after the reassuring "no changes needed" email, and having no access to the email that was changed because it was hosted on the server that had the IP change
the messed-up ticket system, the new ticket system installed on the same day that my site was downgraded, with existing tickets all of sudden no longer accessible.. yet support still replying to those tickets asking me to update, but not getting my replies… missing email responses, you didn't get mine, I didn't get this last one
Are you trying to tell me I was paying for both CloudReseller and hostPro + Turbo because of this one email? Even if you were awaiting confirmation (which you got in the other tickets and emails that I have screenshotted above)… the sites were moved.. so it's not like anyone was accessing the reseller server for anything.. how can you justify double-charging me? I wish I could be ok with this.. because I try to avoid any conflict and stress in my life, and take most things on the chin, but this was a nightmare, and I don't understand Site5's side of it.
Then yesterday… I was suddenly logged out and all the "new" tickets were gone.
My Tickets 2 days ago: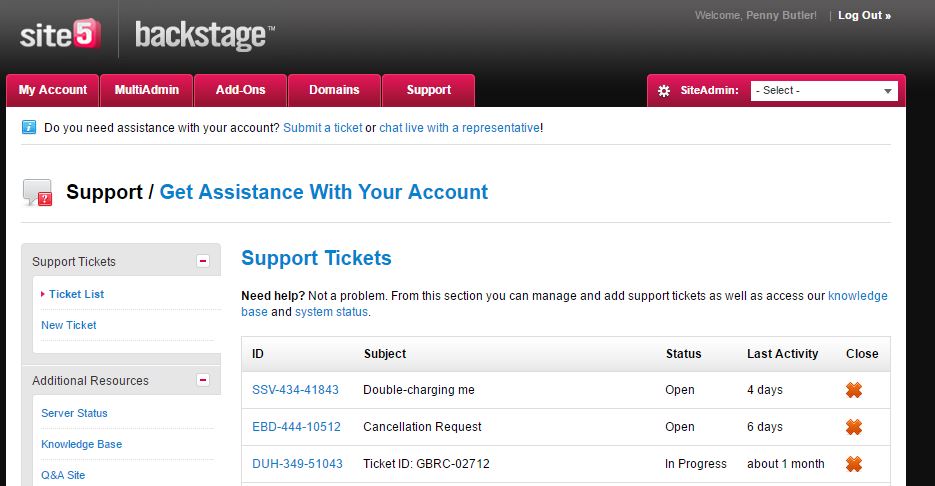 It logged me out and I saw this:
When I logged back in, I got this:

After re-validating my email address, Now I see:

Fixed via Live Chat but then they Re-enabled the double-billing.
Lost trust.